It was a first for Rossbrook House. While holding events for kids of all ages is a pretty straight forward activity at Rossbrook House, it was the first time in 40 years that we held a gala dinner party. In spite of that, we knew that celebrating 40th years of servicing the neighborhood children and youth would be well worth the effort.
The planning began a year in advance with a committee of board members and staff, with the hopes of getting the word out and filling 500 seats in the CanadInns ball room. As sponsors came on board and friends of Rossbrook House started buying tables the seats started to fill up. By Thursday January 28th, the room was filled with 575 guests.
Amongst the donors and supporters, these excited guests also included members of the community. The event was lavishly decorated from the red carpet walk-up to the birch bark centre pieces that included the smiling faces of young Rossbrook House attendees. Each table setting held a hand-made key chain created by the students of Wi-Wabigooni school. And a souvenir booklet that featured photos from each decade since Rossbrook House's inception. Seen on the screens was the 40th logo created just for this prestigious event that includes a likeness of founder Sister Geraldine MacNamara.
The chair of the planning committee, Brenda Hasiuk, welcomed the guests telling them; "We've simply transported all that energy and camaraderie and joy right here to this room. So, on behalf of all of us, I am delighted to welcome you to Rossbrook House this evening!"
Brenda also introduced the M.C. for the evening, Tina Keeper, who is not only a well known actress, politician and producer but is a former Education Assistant at Wi Wabigooni School. She has a deep connection to Rossbrook House and it was clear in the way that she spoke.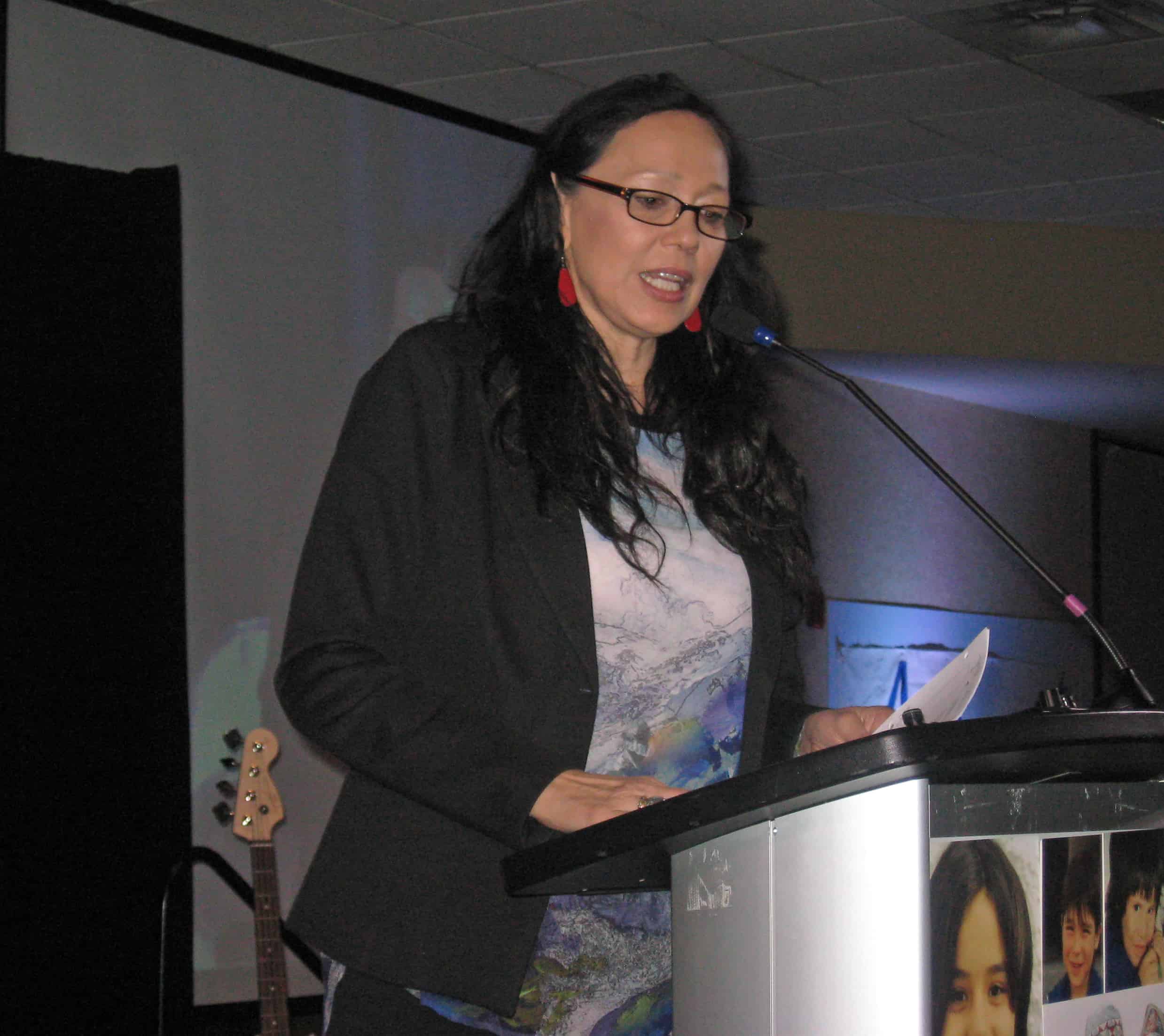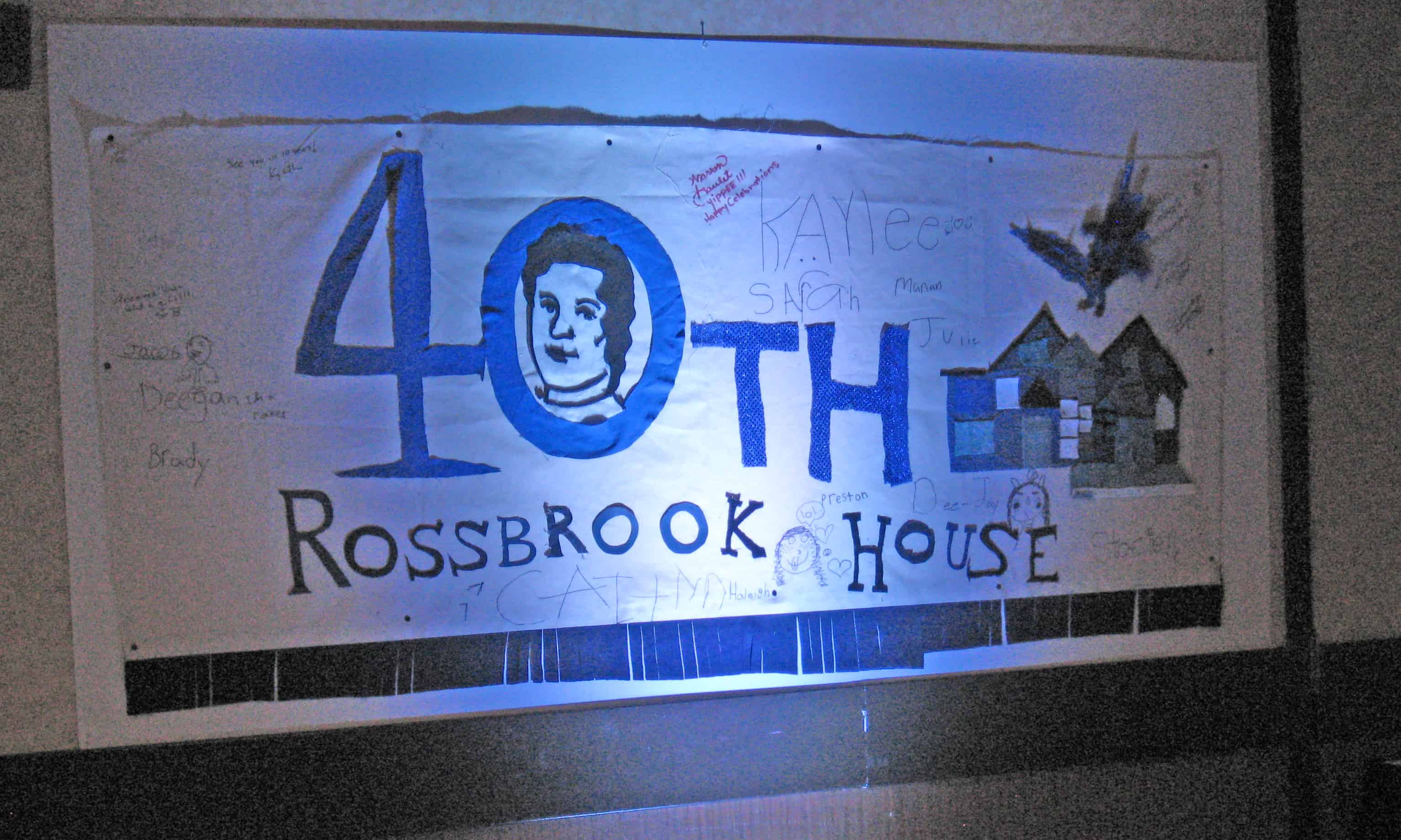 The Spirit Sands Drummers opened the evening with an Honour Song with a grand entry by several Rossbrook House dancers.
In between a delicious meal, expressions of gratitude were given to Rossbrok House's sustaining funders and donors; the Province of Manitoba, the City of Winnipeg and the United Way. These thank yous were delivered by 13-year old Kody Marsden, 9-year old Kaylee Marsden and Rossbrook youth worker Dylan Marsden. Their mother, Brenda Zastre, also spoke and thanked all of the private donors and told the crowd how grateful she is for Rossbrook House and the opportunities it has provided to her eight children. "I think sometimes if Rossbrook House does all this for my kids, imagine how many kids they have helped", she said.
The Rossbrook Rockers, a band made up from a group of kids ranging in ages from the Rossbrook House music program and the alternate school programs, performed three songs for the crowd. And an inspiring 5-minute video, created by APTN, premiered. This video highlighted how varied the events and the programs are and how Rossbrook is a "safe place to belong, play, learn and become…"
If seeing the beautiful faces and smiles of the children in this moving video didn't touch the hearts of those who were watching, certainly the voices of the final three speakers did.
Rossbrook House Day Supervisor Val Henderson shared memories from her time as an attendee. She also read from her friend Sally's journal, who had noted how respected and beloved Sister MacNamara was to the kids who hung out at Rossbrook House in the early days.
Chantel St. Germaine is a third year university student whose bond with Rossbrook includes being a former staff member as well as a young attendee. She recalled the fun she had hanging out with her friends, especially going for van rides and acknowledged that Rossbrook "has opened so many doors for me". She thanked Rossbrook House for helping her to be successful in her journey to be an inner-city school teacher.
"I would not be the person I am today without their presence, in believing in the person I could be, the future I could have and just the inspiration and motivation that came through them", Chantel said.
Finally, 14 year old Luke Marsden thanked the crowd for attending this historic event and talked about how attending Rossbrook House has taught how to be a leader. "I come to Rossbrook House because it is a safe place and it is a fun environment. There are lots and lots of fun activities and programs", Luke said.
This momentous occasion, a year in planning and forty years in the making, wrapped up with another thank you to all and with hugs between friends, old and new. The guests left with smiles on their faces, clutching their gifts of hand-made key chains and souvenir picture booklets. And the staff went home knowing that a few more people, who may not have known what Rossbrook House was all about before, now "got it". That they too would now know how special Rossbrook House is having spent an evening wrapped in the warm glow of all that makes it so special, so unique and so important.
To view the video, please click here: