Congratulations to a record number of scholarship recipients.
Rossbrook House annually awards students in the Rossbrook House community with a variety of Scholarships. This year, 18 were handed out at a ceremony held on November 3. Thank you to all the supporters who make the scholarships possible.
Evan James O'Reilly Memorial Scholarship:
The Evan James O'Reilly memorial scholarship was created by an anonymous donor, who gifted this award as a way to pay tribute to Sister Bernadette O'Reilly's nephew who passed away in 2018.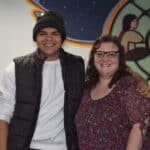 Ashton Clasen is a Rising Sun graduate from the Class of '22. He is enrolled in the Welding Technology Program at Tech-Voc High School. Ashton has always had a passion for building things and working with his hands. Ashton and his family are proud of his accomplishments.
Sister Geraldine MacNamara Scholarship:
We are honoured to carry on Sister Mac's legacy with the Sister Geraldine MacNamara post secondary scholarship.
Deanna Lamirande is enrolled in the Child and Youth Care certificate program with Ndinawe.
Deanna is a former staff of Rossbrook House who says that through her work here, she knew that she wanted to work with young people. She was a youth support worker for several years. She says that if it wasn't for Rossbrook House, she doesn't know where she would be today.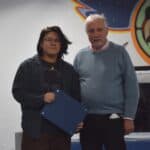 Wyatt Littlejohn graduated from Argyle Alternative High School in June of last year and is now a student in the Child Care program at Red River Polytechnic.
Wyatt expects to graduate in 2024 as a Child and Youth Care Practitioner and hopes to become an advocate for Indigenous youth. He would like to work with youth to help support them to achieve their goals.
Sister Margaret Hughes Scholarship:
We introduced a new scholarship made possible by family and friends of Sister Margaret Hughes, in recognition of her many years with Rossbrook House. Sister Margaret helped to create Wi Wabigooni, the elementary school program hosted by Rossbrook House in partnership with Winnipeg School Division, where she taught for many years until her retirement in 2015. She was also instrumental in implementation of the annual Rossbrook House Pow Wow. After her retirement, Sister Margaret volunteered in our Learning Always program and continued to help with the Pow Wow until she moved to Saskatchewan in 2019.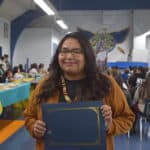 Raina Alexander became a part of Rossbrook House this past summer when she joined the staff as a member of the Green Team. Today, she is enrolled in the Educational Assistance program with Urban Circle Training Centre in partnership with Red River Polytechnic.
We are pleased to be able to award Raina the first-ever Sister Margaret Hughes Scholarship and wish her every success in her studies.
Judith Finlayson-Antony Scholarship:
The Judith Finlayson-Antony scholarship was created by her family this year in her memory. Judy was a teacher who had a passion for helping others. She also loved animals and nature. We are honoured to be able to continue her legacy with the Judith Finlayson-Antony scholarship and are awarded it for the first time.
Margaret Samatte is a student at Yellowquill College, taking the Addictions and Mental Health Worker Program. Her future goal is to work in the community as a Mental Health Addictions worker. She is a mom of 5 children, ranging in ages from 2 months to 15 years old. Margaret is a former Rossbrook House participant.
We are pleased to award Margaret the first Judith Finlayson-Antony Scholarship and wish her all the best in her studies.
Gikendaaso Scholarship:
The next Scholarship was generously created by Nick Logan in honour of his wife, Christine Skene. Their goal is to encourage and champion young women who are pursuing post-secondary education. This scholarship is a way to help to remove financial roadblocks from the student's educational journey. The award is named the Gikendaaso Scholarship, an Ojibway word meaning smart, intelligent, educated.
Payten Tizya is enrolled in the Pathways program at Red River Polytechnic. This is a one-year program that will help Payten to follow her goals of enrolling in a journalism program. We are pleased to award Payten the Gikendaaso Scholarship and wish her every success with her studies.
Sister Bernadette O'Reilly Scholarship:
The Sister Bernadette O'Reilly scholarship fund was established by Bill and Becky O'Reilly in honor of her retirement as Co Executive Director of Rossbrook House.  Friends and family of Sister Bernadette continue to contribute to this fund.
The Sister Bernadette O'Reilly scholarship is awarded annually to honor and support young people from Rossbrook House who are enrolled in post-secondary education.
Kody Marsden is in the 4th cohort of the Build From Within program with the Winnipeg School Division and the University of Winnipeg. Kody is working towards his Bachelor of Education with this program. Kody started coming to Rossbrook House to take part in programs and activities when he was very young. Along with his older brothers and his cousins, he took part in many programs and became a Junior Staff and then Senior Staff. Kody has been a role model for many younger children at Rossbrook House, including the Leadership program participants last summer.
Nicole Fontaine is enrolled in her final year in the College of Nursing at the University of Manitoba and expects to graduate in 2023. Nicole was a participant at Rossbrook House from the time she was 7 years old. She was a junior and senior staff and attended Rising Sun High School. Nicole is a hard-working young woman who supports herself and her four beautiful children, ages 5 to 15.  Her children are her priority and motivation to complete her degree.
Rachel McLean is a mother to three children. Both of her daughters have attended Eagles' Circle and Rising Sun school programs. In 2017, Rachel returned to school, taking the Educational Assistant Program through Urban Circle Training Centre, where she graduated valedictorian. After working for the last few years in Winnipeg School Division, Rachel has returned to university, and enrolled in the Faculty of Education at the University of Winnipeg.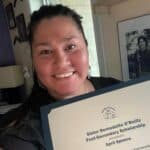 April Spence is in her fourth year of the Bachelor of Education program at the University of Winnipeg Education Centre. April grew up near Rossbrook House, attending Dufferin elementary school. Her mother, Nancy, worked at Rossbrook House. April has many, fond memories of outings and activities she attended as a child. April is mom to two boys, ages 17 and 15.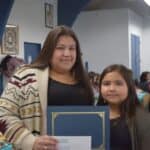 Samantha Sinclair is a former participant of Rossbrook House who also attended Eagles' Circle Junior High. She says that Rossbrook House made a difference in her life and helped her to finish school. Today she is a mother of two daughters ages 9 and 14. Samantha loves working with people of all ages and knows the kinds of obstacles that many of us must overcome. And this is why she is enrolled in the inner-city Social Worker Program at the University of Manitoba.
Amber Fontaine is enrolled in the Business Administration Program, her second year in the Human Resources stream. Amber has a long history with Rossbrook House including as a babysitter for the Young Mothers' Program. She attended that same program with her son, who is now 12 years old.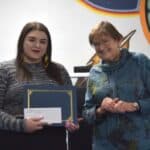 Alexandra Degen is in her second year of the Inner-City Social Work Program at the University of Manitoba. She plans to graduate in 2025 and seek employment working in her community to deliver prevention-based services to families and youth. Alex is a single mom to a 3-year-old son and a participant in the Young Mothers' Program at Rossbrook House.
Zackery Anderson is in his second year of Faculty of Law at the University of Manitoba. He expects to graduate in 2024. Zackery was a participant at Rossbrook House when he lived in the community.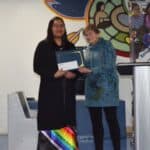 Chandra Alexander is attending Red River Polytechnic in the Applied Accounting program. Chandra's future goal is to get her CPA designation and to further her studies in Indigenous business.
Deandra Courchene is enrolled in the Child and Youth Care Certificate program run by Red River College. Deandra is a former participant of Rossbrook House she was a former junior staff, and green team member. She and her children spent 10 years involved with the Young moms program. After graduating the Child and Youth Care program Deandra plans to attend the University of Manitoba Social work program.
The David Henderson Scholarship:
The David Henderson Scholarship, of the Bruce and Ryan Henderson Family Foundation, honours one of Rossbrook House's earliest supporters; Mr. David Henderson. David was a faithful friend to Sister Geraldine MacNamara and was of great help to her when Rossbrook House was just starting up in 1976. At that time David was serving as Winnipeg's Commissioner of Planning and Social Services and was instrumental in getting the City onboard as a sustaining funder.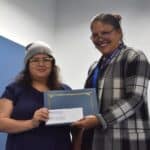 Alicia Spence is enrolled in the Carpentry Training Program with Clan Mothers Healing Village. The courses covered in this program will be certified with Manitoba Institute of Trades and Technology. Alicia's goal is to work with a newly created Clan Mothers Carpentry Crew to create housing in the community and to inspire other young women to work in skilled trades. Alicia is a former participant and mother of two who has taken part in the Young Mothers' Program at Rossbrook House.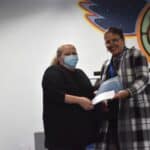 Sonja Fontaine is a 3rd-year student in the Five-year Integrated Bachelor of Education Program at the Winnipeg Education Centre at the University of Winnipeg. Her future goal is to work with inner-city youth. She is mother to five children. She enjoys baking with her daughters and making new recipes with them.
Congratulations to all!