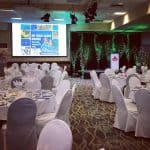 Thank you to the almost 600 guests who attended the #NoChildAlone2019 dinner January 24. This was only the 2nd time in 43 years that Rossbrook House held an event like this. We were thrilled to see so many friends, community and agency members, and supporters. It was our pleasure to bring Rossbrook House to you at the Canad Inns Destination Centre Polo Park.
Each of the guests received a decorated tile made by one of the many Rossbrook House participants or students. The tiles commemorate the lives of the thousands of Indigenous children who died as a result of the residential school experience. Project of Heart acknowledges the families and communities to whom those children belonged. It was originally designed to bring awareness both to the settler community and communities of new Canadians.
The Project of Heart has evolved, through community ownership of the project itself,  to educate all Canadians about the history and legacy. For more information: http://projectofheart.ca/
Thank you to columnist and author Niigaan Sinclair for sharing his message of reconciliation with warmth, humour and inspiration!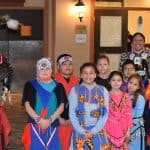 Participants from Rossbrook House along with Patricia Mainville and Matthew Mousseau shared their dance with the guests. The beat of the drum, the movement of their feet, the vivid regalia- all made for a powerful presentation. Patty and Matthew guide the Rossbrook dancers at its annual POW WOW each year. To see more, please join us May 16.
Thank you to former Rossbrook House student/participant/staff Patricia Mainville and Participant/Junior Staff Kody Marsden who co-hosted. Their dedication to Rossbrook House shone through as they spoke about personal experiences. And they kept the evening flowing as they manned the microphone throughout the evening. Rossbrook House is so fortunate to have such amazing people as part of its past and present.
Participants and Junior Staff from Rossbrook House shared stories about themselves. Each of them helped to bring a little bit of Rossbrook House to the Canad Inns. Autumn thanked all of the supporters and guests who were in attendace on behalf of everyone at Rossbrook House.
The #NoChildAlone2019 dinner was an opportunity for Rossbrook House to also gratefully acknowledge and thank our generous funders: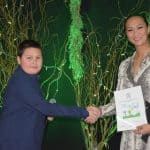 Participant, Dale, thanked the City of Winnipeg for all the support. City Councilor for Point Douglas Vivian Santos graciously accepted our thanks on behalf of the City.
Participant, Drayton, thanked the Province of Manitoba for its continued support of Rossbrook House. The Honourable Heather Stefanson, Member of the Legislative Assembly for Tuxedo, Minister of Families and Deputy Premier kindly accepted our thanks on behalf of the Province.
Junior Staff, Alois, thanked Linda Godin-Sorin, Director of Agency Relations and Allocations at United Way of Winnipeg. Rossbrook House is very fortunate to be an United Way agency and is grateful for the support.
We'd also like to thank all of the volunteers who helped to make the #NoChildAlone dinner the success that it was. Rossbrook House is humbled and grateful to all of the wonderful people who took time out of their busy schedules to champion this endeavor. We have many hard-working and dedicated supporters, volunteers and friends who were with us throughout the entire planning process. Thank you to committee Chair Mary Hanson for being a volunteer superstar!
Thank you to all of the sponsors and supporters of the #NoChildAlone2019 dinner. The evening was a wonderful success and we couldn't have done it without you! We're very grateful.
No Child Alone Dinner Sponsors
The Asper Foundation
The Chipman Family Foundation
CIBC
Congregation of Our Lady of Sion
Coughlin Insurance Brokers
CWB National Leasing
FWS Group of Companies
Gendis Inc.
Bruce and Ryan Henderson Family Foundation
IBEX Payroll
Kiwanis Club of Winnipeg
Maxim Truck & Trailer
Number 10 Architectural Group
Anne & Paul Mahon
Parrish & Heimbecker, Limited
Paterson Foundation
The Pollard Family Foundation
Qualico
Sandler Training
Sisters of the Holy Names of Jesus & Mary
Wawanesa Insurance
Winnipeg Building & Decorating, Ltd.
The Winnipeg Foundation
Thank you to these generous supporters:
Boston Pizza
Canad Inns Destination Centre Polo Park
Doowah Design
Eric Johnson
James Richardson & Sons, Limited
Jarislowsky Fraser Partners Foundation
Joan Molloy
MGEU
Michael Decter Family Foundation
Michael Nesbitt
Monarch Industries Limited
Patill/St. James Insurance
Payworks
Rick Reiss & Jean Carter
Ross Robinson Family Foundation Fund
Andrew Stibbard
Soubry Family Foundation
Southern Chiefs' Organization Inc.
Warehouse Artworks