Hiring from Within
A long-standing tradition at Rossbrook House is hiring our staff from within. Many of our Junior Staff are participants first. We're proud to be able to give so many young people in our community their first job!
One of the most recent Junior Staff hires is Dale. He started dropping-in to Rossbrook House in 2017 when he was 9 years old. He and his younger siblings would walk directly after school. At that time, he shared that he had been to other community centres and other programs in the city and preferred the programs and staff at Rossbrook House.
"They have so much fun activities. They have lots of friendly and gentle staff," he said.
Also in 2017, Dale was a part of the popular after-school program Learning Always and had this to say:
"I've been going since March, and it's been really fun and I like it a lot. It helps us learn. The grades 2 mostly; they get to learn and when they go to school they have lots of ideas. It's just really, really cool."
Click here to see Dale speak about Rossbrook House.
Dale has taken part in the Leadership program, Pow Wow dancing, and volunteer activities. Some of his favourite outings have been the movies, Manitoba Moose games, and going to the Red River Ex. He also Pow Wow danced at the 2019 No Child Alone dinner and was one of the youth speakers who spoke in front of over 500 guests at the event.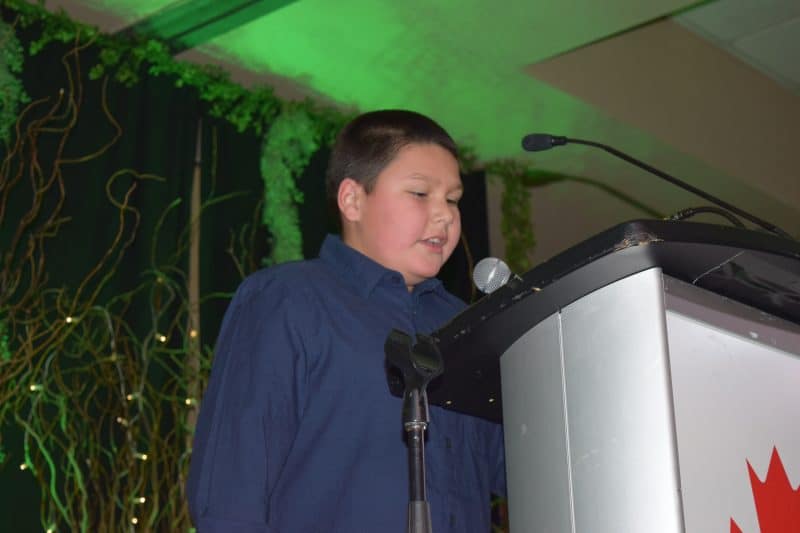 Drop-in
Rossbrook House has many regulars who come every day. As you may know, Rossbrook House drives participants home at the end of each evening. Getting to Rossbrook House is up to each individual child.
We see many sibling groups, single children or buddies walking from the two closest schools each day after 3:30pm.
In 2019 when Dale's family moved farther away from Rossbrook House he shared his concern with Learning Always coordinator Sheila about it being too far to walk. They discussed his need for bus tickets. After Sheila mentioned this to a board member, they volunteered to provide bus tickets for Dale and his siblings.
While Dale shared his Rossbrook House experiences at the No Child Alone Dinner, he mentioned this generous gift. That sparked others to start donating bus tickets for participants to get to Rossbrook House.
Click here to read Dale's 2019 speech at the No Child Alone dinner.
Sheila said that today more children are asking for bus tickets to get to Rossbrook House as many families have moved farther out of the area in order to find housing. There are at least 5 sets of sibling groups who get bus tickets to come to Rossbrook House after school.
A Dream Come True
As of August 2021, Dale, at 13 years old, became a proud member of the Junior Staff team, something he has wanted to do for years.
"If I'm being completely honest, I was ten years old when I first thought about being a Junior Staff," Dale said. "I was watching the Junior Staff with the kids. And it's crazy to think that all of these programs at Rossbrook House have helped me become a Junior Staff. Now being one seems surreal. Going from being a little kid in the programs we have; Leadership, Learning Always. It's a big process but it happened."
After being a part of the Leadership Program, a teen as young as 13 years old can apply for a Junior Staff position. Staff will get involved in helping them to apply for and pick up the personal identification that is required.
"Sheila offered me the job. I didn't have a birth certificate," Dale shared. "She helped me with the process of getting my birth certificate. Rossbrook House paid for it too and I'm really grateful for that. She also told me how to get my Social Insurance Number and to set up a bank account. It was just uphill from there."
Long Tradition
Joni Guiboche is a senior staff at Rossbrook House who was a participant at 6 years old. "I would come in early and help the staff clean," she said. She also became a Junior Staff, many years ago, at 13 years old. "All of my friends were here."  Today she is the Kitchen Coordinator and has worked many other jobs including Program Coordinator.
Junior Staff Tasks
The tasks of the Junior Staff are varied, from working in the kitchen to helping at events.
"We help in the kitchen," Dale said. "Snack is at 4:00. We do the dishes, wipe down anything that needs to be wiped down, sweep and mop the floors. And then go upstairs to help the other staff."
"When you're on the main floor, sanitizing is a big thing," Dale explained. "We sweep, mop, and sanitize at the end of the day. Keep everything tidy. We also watch the kids to help to fix any arguments. If there are any problems between the kids, you're just there to help."
Sounding wise beyond his years, Dale expressed his appreciation for the programs, outings, and activities that he has been involved with at Rossbrook House:
"Not too long ago, we started going on outings again (after a COVID-19 hiatus). Outings are really fun for everyone. They give opportunities. We go places that we might not be able to go to. It gives kids something to do. I just think that Rossbrook House is a really good place."
"At my age, there's a lot of things that could be happening. I could be doing the wrong things, following the wrong crowd," Dale said. "Rossbrook House helps keep your mind off that. It helps you stay in the right lane. There are people here you know you can talk to, you know you can trust. And they can help keep you on the right path."
 Bright Future
 Hearing this young man share his feelings and thoughts, there is no doubt that he knows what he wants and is willing to put in some hard work to get there.
"Honestly I think that getting the job and having my own money is a big thing. If I need money for school, I will know that I have it because of the job, because of Rossbrook," Dale said.
 Supporters like those who donate funds for bus tickets, staff who take time to help a youth navigate applications, and youth who are planning for their futures- this is all a part of the long history that makes up Rossbrook House.
 "My future goal is to be an athlete. I want to get all my schooling done and then after I'm retired, I want to run a restaurant. It's a big goal at 13. And it's going to be a big hill to climb," Dale said. "With the work and maybe with Rossbrook' s help, I think I could."
Dale will be co-hosting the No Child Alone fundraising dinner in April 2023 alongside Rossbrook House Board Director, Colleen Simard.
Read the United Way Winnipeg's interview with Dale by clicking here.