Diocesan News
Rossbrook House a safe haven in the inner city
By James Buchok
11/19/2014
WINNIPEG — In the heart of one of Winnipeg's most challenging neighbourhoods sits Rossbrook House, a safe haven, especially for children. In the words of its late founder, Sister Geraldine MacNamara, SNJM, "No child who does not want to be alone should ever have to be."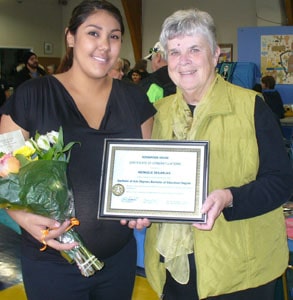 On Nov. 6 Rossbrook held its annual open house and celebrated the academic achievements of the many students, from elementary years to university, who are part of the school programs sponsored by Rossbrook in partnership with Winnipeg School Division No. 1.
Co-executive director Maria Vigna said while Rossbrook holds a number of events to celebrate the children, youth and young adults who come through its doors, "this one is my favourite. I know how hard the kids worked to get to this point," she said.
The students earned cash awards of $200 to $2,000 toward their further education for their work in the Wi Wabigooni elementary school program affiliated with Victoria Albert School; the Eagles' Circle junior high program affiliated with Hugh John MacDonald School; and Rising Sun school, an alternative program of Gordon Bell High School. The university level scholarships were awarded to graduates of these programs who have gone on to post-secondary studies.
Following the presentations, an honour song was sung and drummed by the Spirit Sands Singers from the Swan Lake First Nation.
"There's a myth that if you're from the inner city you'll never make it," said singer Michael Esquash before the performance. "These young people proved that it is a myth. Be proud of who you are. You're not just proving it to the world, you're proving it to yourself."
Esquash told the scholarship recipients that the younger kids are watching them. "They will see what is in front of them and they'll see it's not too hard to follow. Keep going, keep trying and never give up. We can't sit and wait for things to come to us. Don't stop here, keep going."
Rossbrook House opened in 1976 after MacNamara, a law school graduate, secured an empty building which could be converted into a place that could provide an alternative to the environment of the streets. Rossbrook keeps its doors open 365 days a year and 24 hours every weekend and during all school holidays. Rossbrook recruits its staff from the young people who come to the centre on a regular basis.
According to its website, today, 1,500 children and youth aged 6 – 24 years pass through the doors annually and there are up to 100 participants on a daily basis.
Rossbrook has an afterschool homework club, young mom's group, sports and recreational activities, Aboriginal cultural activities, leadership programs, a music program, a money management/matched savings program and a transformative writing program for youth and adults in the community.
In the last year a healthy kitchen project started with the construction of a commercial grade kitchen on the premises providing daily meals while teaching about healthy eating and cooking through hands-on experience.
There is also a strong focus on building employment capacity in youth, including the White Sash Keepers and Leaders Project and LET Youth Junior staff program.
Rossbrook is supported by three core funders: United Way of Winnipeg, the Province of Manitoba and the City of Winnipeg, but also depends on the generosity of a large community of friends and donors.