For the past 4 Februarys, (excluding 2021) Rossbrook House and IRCOM (Immigrant & Refugee Community Organization of Manitoba) have met up at FortWhyte Alive for a winter party we call "Cold City, Warm Hearts".
The idea came out of wanting to show Winnipeg newcomers that winter can be tons of fun. The delighted squeals, laughter and smiles keep everyone warm as they take part in a bannock bake, learn to snowshoe, go down the thrilling toboggan run and get tossed in the Inuit blanket toss. Winter Fun is at the max!
FortWhyte Alive generously opens their doors for a fun evening in February to 100 elementary school-age children from Rossbrook House and IRCOM.  The wonderful FortWhyte Alive staff and volunteers show the children a great time!
Last year Liz Wilson, FortWhyte Alive President & CEO, had this to say about the event:
 "We truly believe that connecting people with nature is essential to overall health. We see huge benefits for youth who spend time outdoors, like increased confidence, resilience, and the ability to overcome obstacles, helping them to go on to become stewards of the planet. We're thrilled to have the opportunity to provide the youth at Rossbrook House and IRCOM with outdoor experiences." 
In 2020, IRCOM brought two buses filled with excited children.
"It's been 4 years and the event never gets tired!" said IRCOM's Associate Executive Director, Shereen Denetto. "This event is an important part of the journey of truth and reconciliation. The truth lies in the fact that through play, children see strangers become friends. And reconciliation flows from the new connections that remain in their hearts and minds, long after the event is over."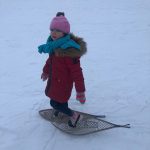 The staff at Rossbrook House enjoys this annual outing as much as the children do.
"Relationships evolve quickly and positively when smiles and laughter occur during a shared experience", said Rossbrook House Executive Director Phil Chiappetta. "There are plenty of both when children from Rossbrook House and IRCOM get together for an evening of outdoor experiences at Fort Whyte Alive.
The children work up an appetite running and playing. And Pizza Pizza generously donates the pizza each year.
As soon as it is safe to do so, we will be thrilled to return to FortWhyte for another thrilling ride down the toboggan run!
#ColdCityWarmHearts