The Sons and Daughter of Italy, Garibaldi Lodge, took over Rossbrook House on December 24. From the early hours, food was being prepared off-site, while the main room at Rossbrook House was transformed into a giant family dining room.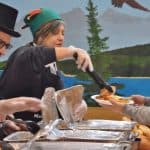 This was the 14th annual Christmas Eve Feast put on by the Sons and Daughters of Italy, and the first time it was held at the inner city drop-in centre. It is not, however, the first time that the Rossbrook community has enjoyed the hospitality of the Sons and Daughters of Italy.
"The Sons and Daughters of Italy have long supported the children and youth at Rossbrook House by preparing and serving a celebration meal at our annual graduation ceremony", explained Rossbrook House Executive Director Phil Chiappetta.
Approximately 200 guests were invited or dropped-in to one of three seatings during the day. Whether they were children and youth, who showed up on their own, as they do every other day at Rossbrook House, or a family like Jordan's with his mother and grandmother, or a young mom with her infant—they each enjoyed traditional Christmas and favourite Italian dishes, hot and cold beverages, and dessert.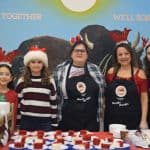 The Sons and Daughters of Italy have been sharing the spirit of the holidays in the west-end of the city for more than a dozen years. Together with many donors and their major sponsors; X-Cues Billiards and Café and Sorrento's on Ellice, the event was enjoyed by many for the first time this year.
"Christmas is a special time of giving for Italians and we appreciate being able to help the multicultural people in this community", said event co-chairs Reno Augellone and Stephanie Zirino from Sons of Italy.
One family who enjoyed the meal was Elvis Perrault (a former Rossbrook participant) and Shannon Allard and their six children. Three of their sons are regular participants at Rossbrook House. "We are thankful for the opportunity and gifts during the holiday season, having been so busy it gave us an opportunity to sit together and enjoy a meal as a family", said Shannon Allard. "The kindness and welcoming from everyone was wonderful! This was a new and awesome experience for us that helped to get us into the holiday spirit."
Along with the plentiful feast provided, everyone left with a gift bag full of treats — toys for the children and a food hamper and clothing for every adult. The event also included photos with Santa, festive music, and entertainment.
This wonderful event could not be possible without the generosity of many volunteers. The Sons and Daughters community answered the call and filled the room with their laughter and warm smiles, serving food and goodies to all.
"We thank them with all our hearts and our appetites,"
 Phil said.
About the Sons and Daughters of Italy, Garibaldi Lodge:
The Order Sons and Daughters of Italy of Canada is an organization of men and women who are devoted to the celebration of Italian heritage, community service and charitable good works.